Get in touch!
07 925 9800
180 Fifteenth Avenue, Tauranga
Monday to Friday 9.00am - 4.00pm
Check out our latest Christmas Special!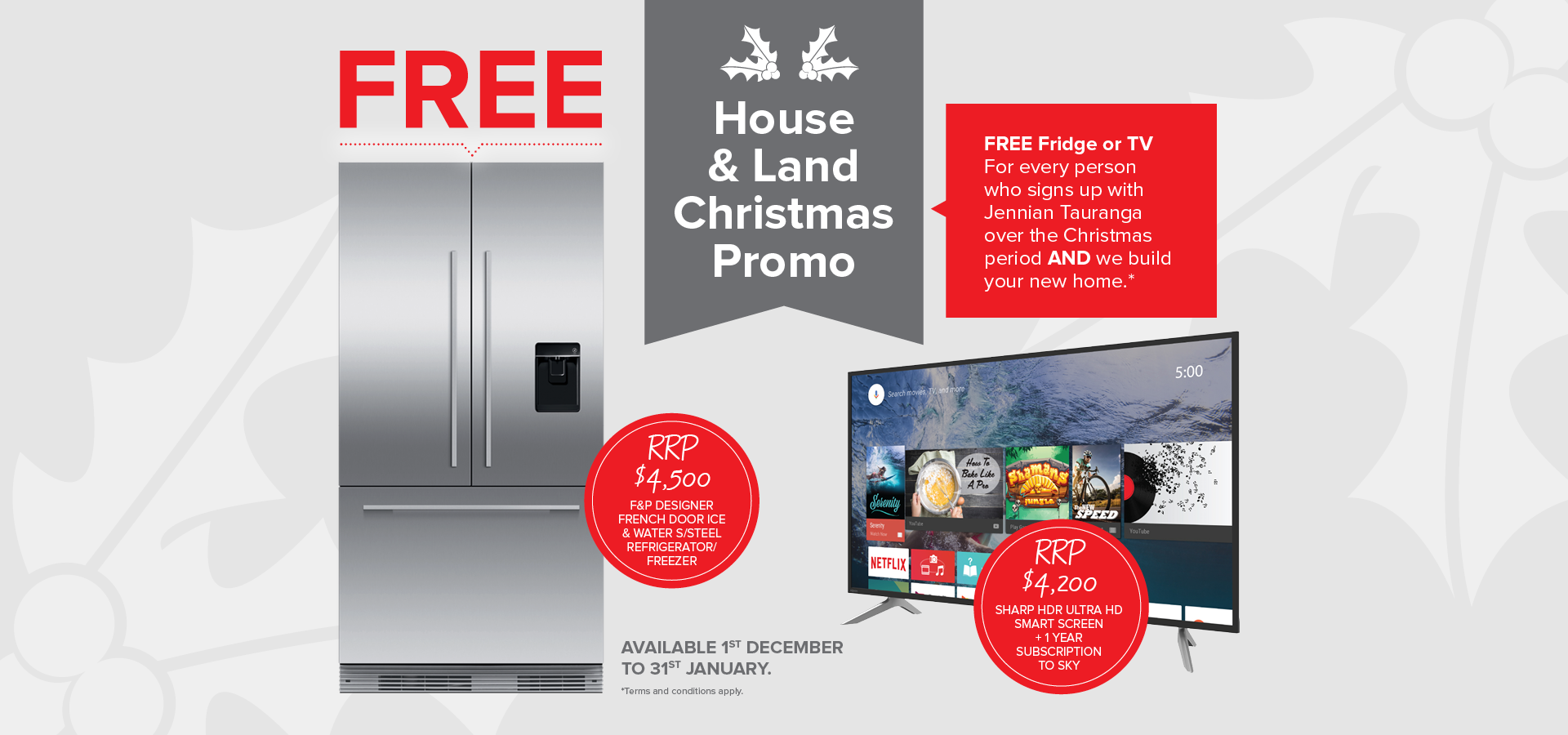 Our Featured House & Land Packages
Our Display Homes Opening Times
Our display homes are a reflection of our craftmanship and workmanship that we put into each and every build we do.
Visiting one of our Display Homes is a great way to get inspiration and talk to an expert at the same time. You can visualise what is possible and discover the quality of building with Jennian Homes. With several display homes in the BOP region, pop in for a visit one today.
Design and Build Specialists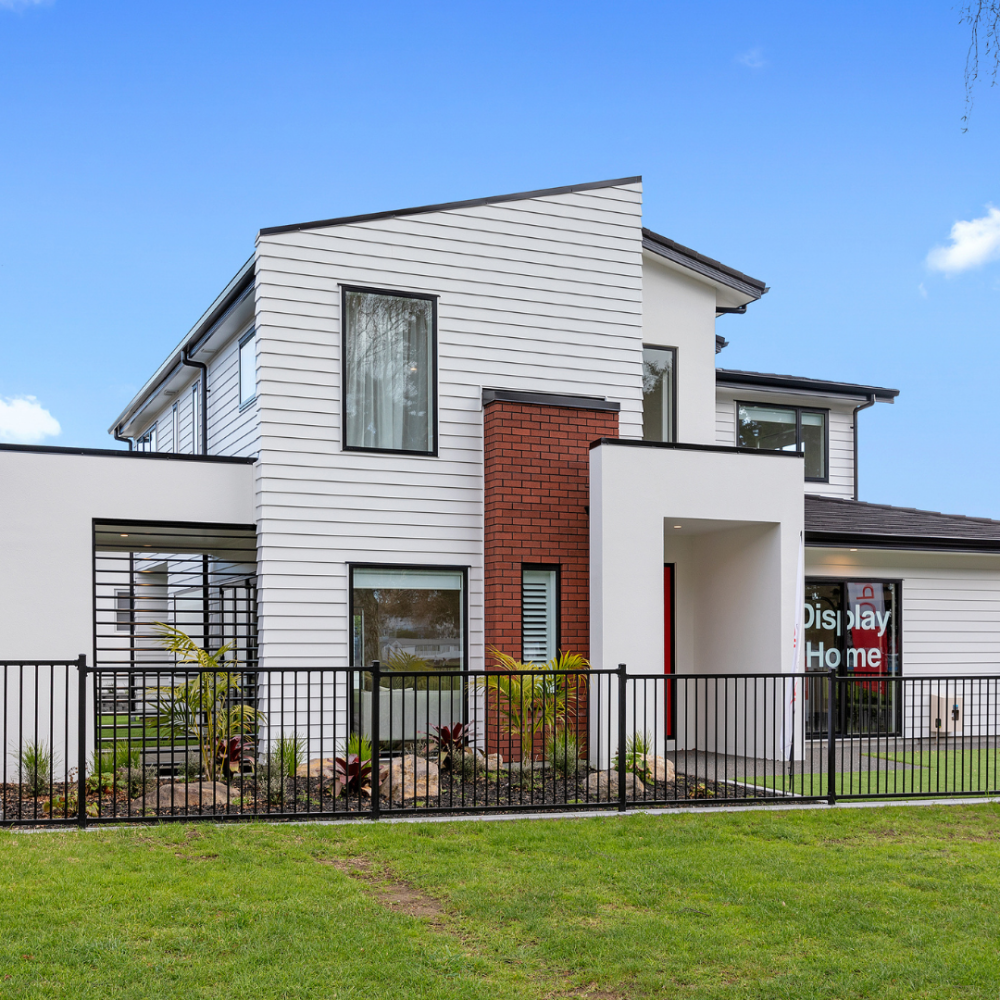 As Design and Build specialists our expert team will help you build your brand new custom home, just the way you want it!
We will work with you to draw up plans from scratch and help you design the home of your dreams. We will take all your ideas, needs and wants into consideration and offer expert advice to help make the most of your home design.
Most awarded building group
Jennian Homes have been building homes for more than 35 years and are proud to be NZ's most awarded building company in the House of the Year awards year on year. When you build with Jennian we will combine our experience with your personality to achieve your perfect home, from scratch or from our great range of plans.
Not sure what you're after?
Take a browse through our inspirational plans to get a head start. They can be built as they are or customised to suit you.
Unleash the value in your Section!
Do you have a large section? Or an old house that needs some major repair?
You could develop your section and build more than one dwelling on the same site, this could be your golden ticket to paying off your mortgage.
Or you could upgrade your old home to brand new dream home with KDR (knockdown and rebuild)!
There are many great reasons to develop including increasing the value in your property, making money from an additional dwelling, and getting your dream home without having to move locations.
However managing this type of project yourself can be a challenge with all the processes you need to go through. From feasibility assessment and At Jennian Homes we can simplify this process and manage the entire project for you!
We are experts in developments, so if you're interested to find out the possibilities in your land, we can help.
Contact us for an initial no obligation free site assessment which can help confirm what you can achieve on your site, or click on the link to learn more about developing your land and if it could be right for you.
Imagine winning a new Jennian home...now's your chance!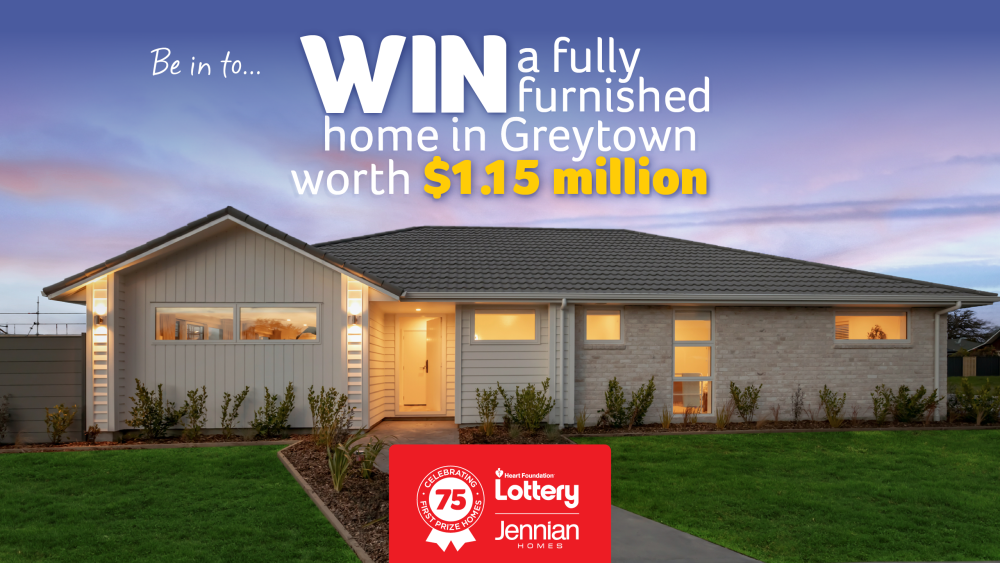 Visit our display home and be into WIN this Jennian Home in Greytown worth $1.15million!
Jennian Homes proudly partners with the New Zealand Heart Foundation to build the first-prize home for the Heart Foundation Lottery. When you visit our Display home you will get a complimentary Heart Foundation Lottery ticket to go into the draw for a chance to win this Greytown home.*
*We have 50 complimentary tickets to give away so hurry in quick!
Hear from our happy customers
Homes that reflect who you are
We will work with you to ensure that you get the home that you always wanted; taking care of the building side of things and letting you do the exciting part like choosing colours, textures and fittings.
Covered by build guarantees
We will make the countdown to moving day easy and enjoyable by keeping you fully informed and involved throughout this exciting time, delivering your home on time and within budget.
Locally owned and operated
We're owned by Kiwi families. We build home for families, and treat people like family. So when you build with Jennian, it feels like family.
Get in touch!
Send a message to the team and somebody will be in touch as soon as we can.